With representation in over 100 countries, WTS Global has already grown to a leadership position as a global tax practice offering the full range of tax services and aspires to become the preeminent non-audit tax practice worldwide. WTS Global deliberately refrains from conducting annual audits in order to avoid any conflicts of interest and to be the long- term trusted advisor for its international clients. Clients of WTS Global include multinational companies, international mid-size companies as well as private clients and family offices.
WTS China is a WTS Global Member in China. Established in 2004, WTS China has been in China for over 15 years, serving finance / tax services predominantly to MNCs. Our China team has a strong international exposure and a comprehensive hands-on experience, capable to provide you a strong and efficient support. In recent years, we have been helping many multinational companies in their China projects planning, compliance work and tax risk assessment.
Located in Shanghai of China, we serve the world. With WTS Global's coordination, WTS has constituted a global network with member firms over 100 countries. We can claim enforcement globally with the support from the global team.
WTS China is led by a formal Big 4 senior tax partner, and comprises experienced tax professions practising at a quality level comparable to Big 4 standard. It has been in China for 15 years, serving finance / tax services predominantly to MNCs. Its clients include multinational groups, national and international medium and small-sized companies, in various industries.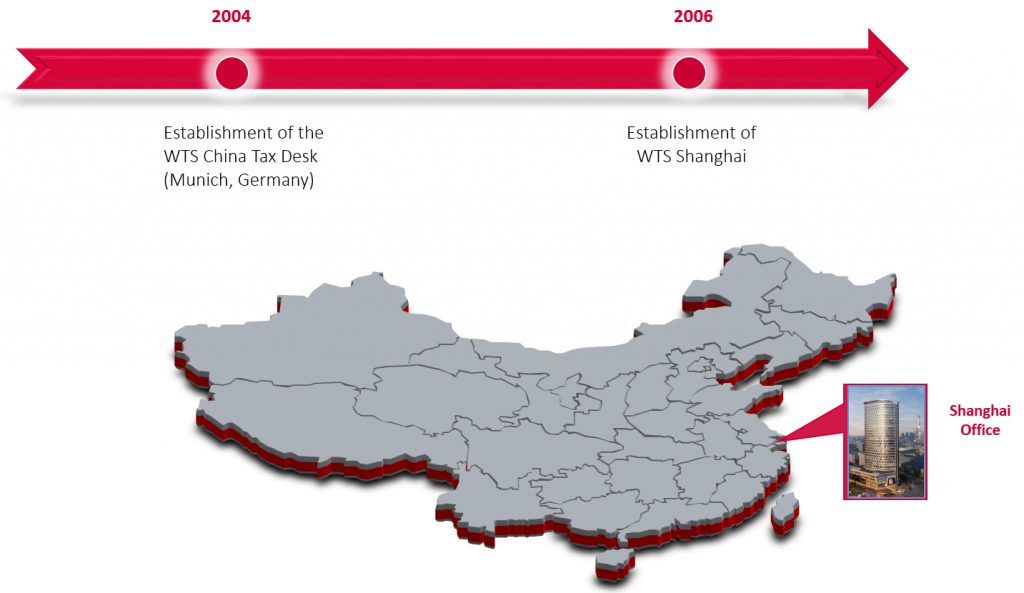 Why choosing WTS China?
WTS China is a dedicated tax and finance consultancy firm. We concentrate all our efforts to help companies solve their problems, make sound decisions, execute business plans, and guide them through the ever-changing nexus of international and domestic tax regulations.